Jesus kept his invitation simple.
At Holy Trinity Orthodox Church, so do we.
Just "come and see."
Celebrate Holy Week and Pascha With Us!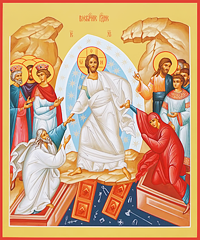 Join us as we reverently recall the death, burial, and resurrection of Christ Jesus together!
April 9, 9:30 a.m. · Palm Sunday: Divine Liturgy and Blessing of Palms and Willows
April 10, 6 p.m. · Holy Monday: Bridegroom Matins
April 11, 6 p.m. · Holy Tuesday: Liturgy of Presanctified Gifts
April 12, 6 p.m. · Holy Wednesday: Healing Service of Holy Unction
April 13, 10 a.m. · Holy Thursday: Divine Liturgy
April 13, 6 p.m. · Holy Thursday: Passion Matins with the Twelve Gospel Readings
April 14, 6 p.m. · Good Friday: Vespers: Burial of Christ Jesus
April 16, 9 a.m. · Sunday of Pascha: Matins, Divine Liturgy, and Blessing of Paschal Food Baskets
Be Our Guest!

Visit us 9:30 Sunday mornings at 11200 Elgin Boulevard in Spring Hill, Florida for worship and fellowship.
Up Next at HTOC

Sunday, April 2, 2023 9:30 a.m.Divine Liturgy
Map Your Visit

Click this link for Google Maps directions from your starting point: Your Route to HTOC.
Get in Touch

Call us at 352 584 5461.
Click here to email us: Email HTOC.
Click here to sign up for our weekly email updates: HTOC Updates. Follow us on Facebook: HTOC Facebook.
Find Out More

Click here for our
Weekly Update | Monthly Newsletter.
Click here to learn about our beliefs, worship, history, and spirituality: Orthodox Christianity 101.
Feed Your Spirit

Click here for "daily bread" to fuel your spiritual life day by day:
Daily Prayer
Daily Bible Readings
Daily Lives of Saints