Unholy Mess?
Ever feel like your life is too much of an unholy mess for God to find a place in it?
Consider, then, under what circumstances God was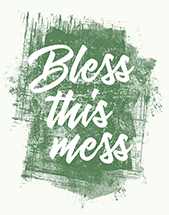 born into the human race — which we'll celebrate this month on Christmas (December 25), the Nativity of Christ Jesus. He was born homeless in a stinky stable from an unwed mother in a seemingly suspect pregnancy that bewildered her fiancé. What's more, his family tree had a few skeletons in the closet: a Canaanite call girl, a pushy Gentile daughter-in-law, and a king who covered up his adultery with murder most foul!
Not quite the accommodations or credentials one might expect for a Messiah! Yet God

was born into such a mess, nonetheless. Five-star lodgings and squeaky clean pedigree obviously matter little to him. What matters to him is you — because "God is love" (1 John 4:15). Welcome him into your life, then!
Mark Your Calendar!
Tuesday, November 15 ‐ Saturday, December 24
Nativity Fast
Sunday, December 3 · 9:30 a.m.
Twenty-Sixth Sunday After Pentecost
Divine Liturgy
Wednesday, December 6
Saint Nicholas of Myra Day
Sunday, December 10 · 9:30 a.m.
Twenty-Seventh Sunday After Pentecost
Sunday Observance of Saint Nicholas Day
Divine Liturgy and Breakfast
Sunday, December 17 · 9:30 a.m.
Twenty-Eighth Sunday After Pentecost
Baptism, Chrismation, and Divine Liturgy
Sunday, December 24 · 9:30 a.m.
Twenty-Ninth Sunday After Pentecost
Sunday Before Nativity · Christmas Eve
Divine Liturgy
Monday, December 25 · 9 a.m.
Christmas · Nativity of Christ · Birth of Jesus
Compline, Carols, and Divine Liturgy
Sunday, December 31 · 9:30 a.m.
Thirtieth Sunday After Pentecost
Divine Liturgy