We Are Pascha People
This month (April 16) we celebrate Pascha — Christ Jesus rising from death.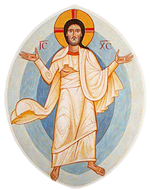 But Pascha isn't just a holiday. It's something that happened to us when we were baptized: "By being baptized, we were buried with Christ into his death. Christ has been raised from the dead by the Father's glory. And like Christ we can live a new life" (Romans 6:4).
And with that new life comes new family, for "we were all baptized into one body by one Spirit. All of us, though there are so many of us, make up one body in Christ, and as different parts we are all joined to one another" (1 Corinthians 12:13 and Romans 12:5).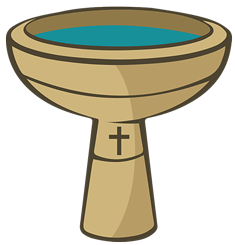 Baptism, our own personal Pascha, birthed our Christian identity and kinship in Christ. Starting this Pascha, let's build anew on our baptismal bond with Jesus and each other to live a new life as a church family!
Mark Your Calendar!
Sunday, April 2 · 9:30 a.m.
Fifth Sunday of Great Lent: Saint Mary of Egypt
Divine Liturgy
Sunday, April 9 · 9:30 a.m.
Palm Sunday
Divine Liturgy and Blessing of Palms and Willows
Monday, April 10 · 6 p.m.
Holy Monday Bridegroom Matins
Tuesday, April 11 · 6 p.m.
Holy Tuesday Presanctified Liturgy
Wednesday, April 12 · 6 p.m.
Holy Wednesday Healing Service of Holy Unction
Thursday, April 13 · 10 a.m.
Holy Thursday Divine Liturgy
Thursday, April 13 · 6 p.m.
Passion Matins with the Twelve Gospel Readings
Friday, April 14 · 6 p.m.
Good Friday Vespers: Burial of Christ Jesus
Sunday, April 16 · 9 a.m.
Pascha: Resurrection of Christ Jesus
Matins, Divine Liturgy, and Blessing of Paschal Food Baskets
Sunday, April 23 · 9:30 a.m.
Second Sunday of Pascha: Thomas
Divine Liturgy
Sunday, March 26 · 9:30 a.m.
Third Sunday of Pascha: Myrrhbearing Women
Divine Liturgy