Holy Trinity Orthodox Church:
What's Happening June 2020
"Let us not give up the habit of meeting together... Instead, let us encourage each other all the more,"
the earliest Christians said (Hebrews 10:25). So join us for worship and fellowship. To find us, click here: Find HTOC.
For a printer-friendly PDF version of our monthly newsletter, click here: HTOC Newsletter.
Update: Church Reopenings
As part of our diocese's methodical process to assess the possibility of reopening churches on a parish by parish basis, ours has submitted the information requested. The final decision lies with no one other than our bishop, whose word we await. We all want to be back in church, but given the utter seriousness of this lethal virus with no vaccine or cure yet, it must be done as safely as possible, given the risk to health and life. Thank you for your continued patience, prayers, and support!
Calendar
Sunday, June 7
Pentecost: Descent of the Holy Spirit
Final Sunday of Pascha
Worship and fellowship temporarily postponed
at our bishop's direction as a precaution against
coronavirus (COVID-19).
Sunday, June 14
First Sunday After Pentecost: All Saints Sunday
Worship and fellowship temporarily postponed
at our bishop's direction as a precaution against
coronavirus (COVID-19).
Sunday, June 21
Second Sunday After Pentecost: All Saints of Carpathian Rus'
Worship and fellowship temporarily postponed
at our bishop's direction as a precaution against
coronavirus (COVID-19).
Sunday, June 28
Third Sunday After Pentecost
Worship and fellowship temporarily postponed
at our bishop's direction as a precaution against
coronavirus (COVID-19).
News
Go to Church Online: While we hunker down due to coronavirus precautions, church can come to us via the Internet. Watch worship services streaming live online from our diocese's cathedral by clicking this link: Live From Christ the Saviour Cathedral. Sunday Liturgy broadcasts at 9 a.m. Also broadcasting worship services online (both live and video) are the nuns at the Monastery of the Transfiguration in Ellwood City, Pennsylvania. To join them via YouTube in their lovely little chapel, click this link: Ellwood City Chapel on YouTube. For their worship schedule, click this link: Monastery of the Transfiguration Calendar.
In Case of Emergency: If an emergency puts you in immediate need of clergy on call while we are between permanent presbyters, please call our neighboring presbyter, Father John Lazarek, at 412 310 0608. Also, if you, a loved one, or a fellow parishioner are hospitalized, please let your church and available clergy know. HIPAA federal medical privacy laws do not allow hospitals to notify churches or clergy that parishioners are there.
Milestones
"Rejoice with those who rejoice" (Romans 12:15). Best wishes to our brothers and sisters in Christ who are celebrating special milestones this month. Birthdays: Presbytera Mary Mattis (June 1), Father Robert Woytek (June 9), and Riitta Onishenko (June 15). God grant you many years!
We Are Pentecost People!

Pentecost (June 7 this year) celebrates the descent of the Holy Spirit upon the risen Christ's followers in Jerusalem, which forged them into something new — the Church! But Pentecost didn't just happen to them a long time ago. It also happened to you and me, in our own lifetime, when we were anointed with chrism right after baptism: "God himself has anointed us… he has marked us with his own seal and put his Spirit in our hearts" (2 Corinthians 1:21-22). Our chrismation was our own personal Pentecost, marking us as God's own, destined to grow Christlike and bear "the fruit of the Spirit: love, joy, peace, patience, kindness, goodness, faithfulness, gentleness, and self-control" (Galatians 5:22-23). So as a church family of Pentecost people, let's recommit to following the Spirit's lead, confident that "God did not bestow on us a spirit of bashfulness, but of strength, love, and good judgment" (2 Timothy 1:7).
The Apostles Fast Starts June 15

This year's Apostles Fast runs from Monday, June 15 through Sunday, June 28. As a preparation for Saints Peter and Paul Day (June 29), on which we honor the leading figures among Christ Jesus' apostles, it redirects our focus to enhanced practice of almsgiving, prayer, and fasting after the prolonged celebration of Pascha that ends on Pentecost. As we read in Matthew 6:1-18, Jesus prescribed those three core holy habits to tame our egos and appetites while turning our attention more towards God and neighbor, in line with his message of selfless love. The Apostles Fast is also a good time to ponder how we profess in the Creed that the Church is "apostolic" — a word whose Greek roots mean "sent out." Jesus sent his apostles out into the world to spread his good news, and his Church is meant to do likewise. What can our church do to continue that apostolic mission in this time and place where God has planted us?
Happy Father's Day!
Father's Day (June 21 this year) gives us pause to remember the men who gave us life and nurtured our faith — fathers, grandfathers, godfathers, husbands, clergymen, and monks. To those still among us, God grant you many years! To those who have before us, eternal memory and blessed rest!
Pray for A New Presbyter!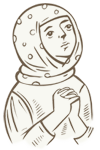 God, at the moment, our church is a family of faith in need of a steady father. Thank you for the ministry of our late longtime presbyter, Father Michael Shuster, and for all the visiting presbyters who have been taking care of us since his death. Please help a new permanent presbyter come our way and make his home among us soon, to lead us faithfully and help us grow in spirit and numbers. We trust that you know our needs and will provide what is best for us, in your love for us, for you look after the widowed and the fatherless. Amen.
Keep Up With the Latest at HTOC
A lot is changing from day to day as we ride out these challenging times of coronavirus together. Our church wants to do its best to keep you informed and in touch as promptly as we can. To get the latest news about our worship schedule and church life, along with a dose of inspiration, sign up for our regular and special email updates by clicking this link: HTOC Updates.