Think of an orchestra. It is made up of a conductor and musicians. Both must do their part to make beautiful music. Without musicians, the conductor cannot play all the instruments at the same time on his or her own. Without the conductor, the musicians cannot play in coordination with each other. Both the conductor and the musicians must work together in harmony. And both must know their music, which means learning the notes and practice, practice, practice.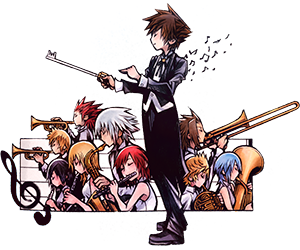 The Church is like an orchestra. If the Church is to "sing and make music to the Lord" (Ephesians 5:19), both clergy and laity must do their part and work together in harmony, just as the conductor and musicians do in an orchestra. Like a conductor, a clergyman is meant to coordinate, not to do everything on his own. Like musicians, laypeople are meant to be active participants, not a passive audience. And both must know their faith, which means becoming ever more familiar with what we believe and putting it into practice, practice, practice.
Just as a conductor and musicians are part of a single orchestra, clergy and laity are part of a single body: the "body of Christ," as the Bible calls the Church. "The body of Christ has many different parts, just as any other body does.... It takes many parts to make a single body. That's why the eyes cannot say they don't need the hands. That's also why the head cannot say it doesn't need the feet. In fact, we cannot get along without the parts of the body that seem to be the weakest.... God put our bodies together in such a way that even the parts that seem the least important are valuable. He did this to make all parts of the body work together smoothly, with each part caring about the others.... All of you together are Christ's body, and each of you is a part of it" (1 Corinthians 12:12-27).
As we welcome Father Alexis Woytek as our church's new priest — after so much praying and waiting! — let us keep these thoughts in mind and act on them. With his assignment, our church starts a new chapter in our life in Christ together, full of opportunities, possibilities, and challenges. Let us work together with him and each other in harmony, as one body in which everyone plays a part and has something to contribute to our mutual, overall spiritual health. By following that dynamic, the little orchestra of our church will surely be able to make beautiful music together, to "make a joyful noise to the Lord" (Psalm 100:1) that brings God praise, makes our hearts beat in rhythm with his love, and draws newcomers and fresh life into his family of faith.