War in Ukraine is still making life a living hell for millions of children, women, and men there while Russia's unprovoked invasion continues to defy God's commandments: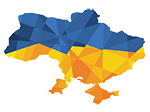 "Do not murder," "Do not steal," and "Do not crave what belongs to your neighbors" (Exodus 20:13, 20:15, and 20:17).
The University of Florida Ukrainian Student Association (UF USA) — a local group of college students from Ukraine and Ukrainian-Americans — is stepping up to the plate to relieve human suffering in war-torn Ukraine. Their Spring 2022 drive collected tens of tons of food, clothes, and medicine shipped to Ukraine. Their Fall 2022 drive kicked off with an ecumenical prayer vigil in Gainesville, Florida that netted over $1,200 in alms that went toward buying life-saving medical supplies inside Ukraine.
You can join in their From UF to Ukraine Humanitarian Aid Drive by donating through their GoFundMe webpage by clicking on this link: tinyurl.com/uf-to-ukraine.
The next round of donations will buy thermal underwear for Ukraine's first responders through MedGlobal, an international nonprofit partnered with Ukraine's Ministry of Health, so those brave men and women have the gear to survive outside in below-zero winter temperatures while they put out fires, rescue the injured, dig up landmines, and repair broken power grids bombed by Russian missles to deprive Ukrainian civilians of light, heat, and water amid freezing weather.
Every dollar counts: no donation is too large or too small. "Don't forget to do good and share what you have with those in need, for such sacrifices please God" (Hebrews 13:16). Please give today at tinyurl.com/uf-to-ukraine.