Jesus kept his invitation simple.
At Holy Trinity Orthodox Church, so do we.
Just "come and see."
Be Our Guest!

Visit us 9:30 Sunday mornings at 11200 Elgin Boulevard in Spring Hill, Florida for worship and fellowship.
Up Next at HTOC

Sunday, May 16, 2021 · 9:30 a.m.Divine Liturgy
Map Your Visit

Click this link for Google Maps directions from your starting point: Your Route to HTOC.
Get in Touch

Call us at 352 584 5461.
Click here to email us: Email HTOC.
Click here to sign up for our weekly email updates: HTOC Updates.
Find Out More

Click here for our
Weekly Update | Monthly Newsletter.
Click here to learn about our beliefs, worship, history, and spirituality: Orthodox Christianity 101.
Feed Your Spirit

Click here for "daily bread" to fuel your spiritual life day by day:
Daily Prayer
Daily Bible Readings
Daily Lives of Saints
Pascha: Our Christian Passover!
"Christ our Passover..." (1 Corinthians 5:7). Sound like a strange label for Christ Jesus? Well, that's where our word Pascha (Pasch in dictionary English) comes from: Greek Paskha, from Hebrew Pesakh, means Passover. That Biblical name for the holiday also known as "Easter" better highlights its meaning, for our celebration of Jesus rising from death is our Christian Passover! While Passover celebrates how Moses and the Hebrew people passed from slavery over to freedom in the Exodus, Pascha celebrates how Jesus passed from death over to life in his resurrection, in the process freeing humankind held hostage by sin and death. So sings the Church on this feast of feasts and holiest of holy days: "It is the Day of Resurrection… It is Pasch, the Lord's Passover — for from death to life, from earth to heaven Christ our God has led us who now sing this victory song!"
From Our Bishop: Letter for Pascha 2021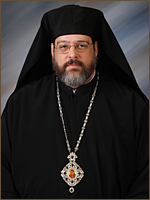 In celebration of Pascha (May 2), our bishop, Metropolitan Gregory of Nyssa, head of the American Carpatho-Russian Orthodox Diocese of North America, offers insight and inspiration in his letter for this feast of Christ Jesus rising from death.
To read it online on our diocese's website, click this link: Archpastoral Letter for Pascha 2021.
To download a printer-friendly PDF copy of it, click this link: Archpastoral Letter for Pascha 2021 PDF.