Jesus kept his invitation simple.
At Holy Trinity Orthodox Church, so do we.
Just "come and see."
Be Our Guest!

Visit us 9:30 Sunday mornings at 11200 Elgin Boulevard in Spring Hill, Florida for worship and fellowship.
Up Next at HTOC

Faith and Spirituality Enrichment Hour
Tuesday, April 13, 2021
7 p.m.
Great Canon of Saint Andrew of Crete
Wednesday, April 14, 2021
12 noon
Divine Liturgy
Sunday, April 18, 2021
9:30 a.m.
Map Your Visit

Click this link for Google Maps directions from your starting point: Your Route to HTOC.
Get in Touch

Call us at 352 584 5461.
Click here to email us: Email HTOC.
Click here to sign up for our weekly email updates: HTOC Updates.
Find Out More

Click here to learn about our beliefs, worship, history, and spirituality: Orthodox Christianity 101.
Feed Your Spirit

Click here for "daily bread" to fuel your spiritual life day by day:
Daily Prayer
Daily Bible Readings
Daily Lives of Saints
Food for Thought: Equal Opportunity Jesus
Jesus raised quite a few eyebrows in his day by his openness toward all. "This fellow welcomes sinners and eats with them," prim and proper religious folk grumbled about him dining with shady characters and social outcasts (Luke 15:2). Jesus' choice of dinner companions made a point: nobody is outside the bounds of God's friendship. That's good news for all of us! No matter where we're at in life, God wants our company and cares for sinner and saint alike: "He lets the sun rise for all people, whether they are good or bad. He sends rain to those who do right and to those who do wrong" (Matthew 5:45). We're all works in progress in God's eyes — and that's why there's room in his church for everyone willing to accept the invitation he extends in Jesus.
From Our Bishop: Letter for Great Lent 2021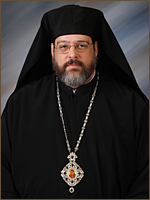 As Great Lent (March 15 through May 1 this year) begins our yearly preparation for our celebration of the risen Christ on Pascha (May 2), our bishop, Metropolitan Gregory of Nyssa, head of the American Carpatho-Russian Orthodox Diocese of North America, offers insight and inspiration in his letter for this season of repentance and renewal.
To read it online on our diocese's website, click this link: Archpastoral Letter for Great Lent 2021.
To download a printer-friendly PDF copy of it, click this link: Archpastoral Letter for Great Lent 2021 PDF.